PRE-ORDER INFORMATION
Pre-order from Malaprop's to receive signed and/or personalized copies of What the River Knows by Isabel Ibañez. For personalization, use the order comments field to provide the name to which the book should be autographed (Ex. To Rebecca).

If you need to make changes to your personalization request, please email info@malaprops.com
ABOUT THE BOOK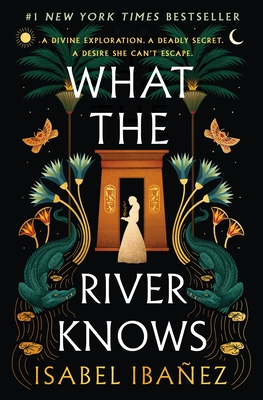 The Mummy meets Death on the Nile in this lush, immersive historical fantasy set in Egypt filled with adventure, a rivals-to-lovers romance, and a dangerous race.
Bolivian-Argentinian Inez Olivera belongs to the glittering upper society of nineteenth century Buenos Aires, and like the rest of the world, the town is steeped in old world magic that's been largely left behind or forgotten. Inez has everything a girl might want, except for the one thing she yearns the most: her globetrotting parents--who frequently leave her behind.
When she receives word of their tragic deaths, Inez inherits their massive fortune and a mysterious guardian, an archeologist in partnership with his Egyptian brother-in-law. Yearning for answers, Inez sails to Cairo, bringing her sketch pads and a golden ring her father sent to her for safekeeping before he died. But upon her arrival, the old world magic tethered to the ring pulls her down a path where she soon discovers there's more to her parent's disappearance than what her guardian led her to believe.
With her guardian's infuriatingly handsome assistant thwarting her at every turn, Inez must rely on ancient magic to uncover the truth about her parent's disappearance--or risk becoming a pawn in a larger game that will kill her.
SHIPPING INFORMATION
Books will ship on or after the publication date for What the River Knows (11/14/23) depending on the size of the pre-order campaign and the author's availability. If you order What the River Knows plus any of Isabel's backlist, your books will all ship after What the River Knows is published. You will receive an email notification when your book is on the way to you and a generic email from stamps.com that will contain your tracking number. If you need to make any changes to your shipping address, please email info@malaprops.com

Domestic Shipping Rates:
Media Mail (US): $5, plus $1 per additional book
Priority Mail (US): $9.90, plus $1 per additional book

International Customers: Shipping prices vary per country. We will have to verify shipping cost before we finalize your order. If you receive an AVS mismatch error please email info@malaprops.com and we will invoice you via PayPal.
ABOUT THE AUTHOR
Isabel Ibañez is the author of Together We Burn (Wednesday Books), and Woven in Moonlight (Page Street), a finalist for the William C. Morris Award, and is listed among Time Magazine's 100 Best Fantasy Books Of All Time. She is the proud daughter of Bolivian immigrants and has a profound appreciation for history and traveling. She currently lives in Asheville, North Carolina, with her husband, their adorable dog, and a serious collection of books. Say hi on social media at @IsabelWriter09.