PRE-ORDER INFORMATION
Pre-order from Malaprop's to receive a signed and/or personalized copy of Spell Bound by F.T. Lukens. For personalization, use the order comments field to provide the name to which the book should be autographed (Ex. To Shawn). F.T. will also sign or personalize their earlier books. Please know that you if you pre-order any of their early titles, all books will ship after F.T.'s event on Saturday, April 8th!
Stay tuned for more details about the launch event.
If you need to make changes to your personalization request, please email info@malaprops.com
ABOUT SPELL BOUND
Two rival appre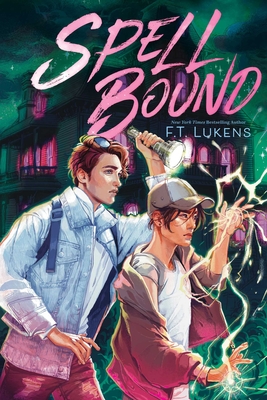 ntice sorcerers must team up to save their teachers and protect their own magic in this lively young adult romantic adventure from the New York Times bestselling author of In Deeper Waters and So This Is Ever After.
Edison Rooker isn't sure what to expect when he enters the office of Antonia Hex, the powerful sorceress who runs a call center for magical emergencies. He doesn't have much experience with hexes or curses. Heck, he doesn't even have magic. But he does have a plan--to regain the access to the magical world he lost when his grandmother passed.
Antonia is...intimidating, but she gives him a job and a new name--Rook--both of which he's happy to accept. Now all Rook has to do is keep his Spell Binder, an illegal magical detection device, hidden from the Magical Consortium. And contend with Sun, the grumpy and annoyingly cute apprentice to Antonia's rival colleague, Fable. But dealing with competition isn't so bad; as Sun seems to pop up more and more, Rook minds less and less.
But when the Consortium gets wind of Rook's Spell Binder, they come for Antonia. All alone, Rook runs to the only other magical person he knows: Sun. Except Fable has also been attacked, and now Rook and Sun have no choice but to work together to get their mentors back...or face losing their magic forever.
EVENT INFORMATION
Malaprop's is please to host an event with F.T. Lukens on Saturday, April 8. Details to be announced SOON!
You may purchase a copy of Spell Bound at the event to be signed that evening. You may also pre-order a signed copy to be shipped or picked up at Malaprop's.
If you have any questions, please email info@malaprops.com
SHIPPING INFORMATION
Signed books will ship after the event on 04/08/23. If you order Spell Bound plus any of F.T's other titles, all books will ship together F.T.'s event on 04/08. You will receive an email notification when your book is on the way to you and a generic email from stamps.com that will contain your tracking number. If you need to make any changes to your shipping address, please email info@malaprops.com
Domestic Shipping Rates:
Media Mail (US): $5, plus $1 per additional book
Priority Mail (US): $9.90, plus $1 per additional book
International Customers: Shipping prices vary per country. We will have to verify shipping cost before we finalize your order. If you receive an AVS mismatch error please email info@malaprops.com and we will invoice you via PayPal.
If you need to change your address, have questions about shipping, etc., please email info@malaprops.com