PRE-ORDER INFORMATION
Pre-order from Malaprop's to receive signed and/or personalized copies of Night of the Witch by Beth Revis & Sara Raasch*. For personalization, use the order comments field to provide the name to which the book should be autographed (Ex. To Julian).

If you need to make changes to your personalization request, please email info@malaprops.com
*At this time, we are unable to guarantee a signature from Sara.
ABOUT THE BOOK
A witch and a hunter. Vengeance is their mission. Love is their destiny.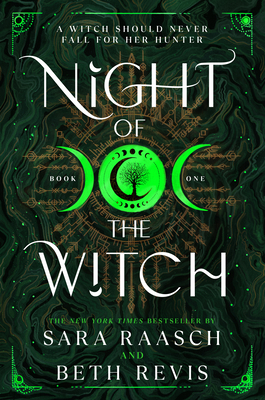 Fritzi is a witch. A survivor of a brutal attack on her coven, she's determined to find her only surviving family member and bring the hexenjägers--zealot witch hunters--to justice for the lives they ended. To do this, she will need to take down their leader--Kommandant Dieter Kirch.
Otto is a hexenjäger and a captain, the second in command to Dieter Kirch--but that's just his cover. Years ago, the hexenjägers burned his innocent mother alive and since then, he has been planning a move against the witch hunters that tore his family apart. And now the time has come for them to pay for what they've done.
When Fritzi and Otto are unexpectedly thrown together, neither is sure they can trust the other, despite their common enemy. But all they have is one another, and they both crave revenge. As truths come to light and trust shifts, Fritzi and Otto uncover a far more horrifying plot at the center of the hexenjäger attacks . . . but their own growing feelings for each other may be the most powerful magic of all.
SHIPPING INFORMATION
Books will ship on or after the publication date for Night of The Witch (10/03/23) depending on the size of the pre-order campaign and the author's availability. If you order Night of the Witch plus any of Beth's backlist, your books will all ship after Night of the Witch is published. You will receive an email notification when your book is on the way to you and a generic email from stamps.com that will contain your tracking number. If you need to make any changes to your shipping address, please email info@malaprops.com

Domestic Shipping Rates:
Media Mail (US): $5, plus $1 per additional book
Priority Mail (US): $9.90, plus $1 per additional book

International Customers: Shipping prices vary per country. We will have to verify shipping cost before we finalize your order. If you receive an AVS mismatch error please email info@malaprops.com and we will invoice you via PayPal.
ABOUT THE AUTHORS
Beth Revis is a New York Times bestselling author with books available in more than twenty languages. She writes science fiction, fantasy, and contemporary novels, including Across the Universe, Star Wars: Rebel Rising, Give the Dark My Love, and A World Without You. A native of North Carolina, Revis lives in a rural corner of the state with her son and husband.
Sara Raasch has known she was destined for bookish things since the age of five, when her friends had a lemonade stand and she tagged along to sell her hand-drawn picture books too. Not much has changed since then: her friends still cock concerned eyebrows when she attempts to draw things, and her enthusiasm for the written word still drives her to extreme measures. She is the New York Times bestselling author of the Snow Like Ashes series, These Rebel Waves, and These Divided Shores. You can visit her online at www.sararaaschbooks.com and @seesarawrite on Twitter.