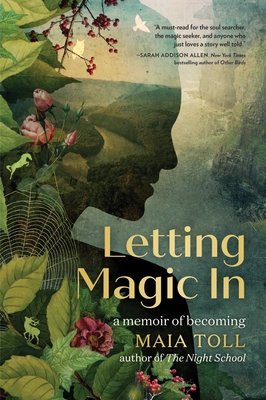 Preorder Information
Pre-order from Malaprop's to receive a signed and/or personalized copy of Letting Magic In: A Memoir of Becoming by Maia Toll (publishes 06/27).
For personalization (name only), use the order comments field to provide the name to which the book should be autographed (Ex. To Shawn). Books will be personalized with a name only. If you need to make changes to your personalization request, please email info@malaprops.com before June 1st.
Preorder Gift Information
Preorder from us and receive a special tote! To claim your gift, follow the link here. Please know totes and books will not be shipped together.
Shipping Information
Signed books will ship after Tuesday, June 27th.
If you order Letting Magic In and any of Maia's other titles, the whole order will ship after June 27th.
You will receive an email notification when your book is on the way to you and a generic email from stamps.com that will contain your tracking number. If you need to make any changes to your shipping address, please email info@malaprops.com.
Shipping Rates:
Media Mail (US): $5, plus $1 per additional book
Priority Mail (US): $9.90, plus $1 per additional book
International prices vary per country. We will have to verify shipping cost before we finalize your order. If you receive an AVS mismatch error please email info@malaprops.com and we will invoice you via PayPal.
---
About The Book
This book is the story of one woman's becoming--the story of pushing past the boundaries of what once seemed possible to discover the extraordinary all around us. In it Maia shares how she learned to let magic in so she could live the life she longed for--one filled with curiosity, connection, and the deepest kind of inner knowing. In this soulfully written recollection--peppered throughout with magical learnings and rituals gathered along the way--Maia uncovers the things that change you in unexpected ways and guide you to become the person you never knew you wanted to be, but perhaps, always were. This she could call magic. And through Letting Magic In you will gain the courage and the wisdom to find your own.
About the Author
Maia Toll is the author of The Wild Wisdom series, including The Illustrated Herbiary, and The Night School. After pursuing an undergraduate degree at the University of Michigan and a master's at New York University, Toll apprenticed with a traditional healer in Ireland, where she spent extensive time studying the growing cycles of plants, the alchemy of medicine making, and the psycho-spiritual aspects of healing--and studied at The University of Michigan and New York University. She is the co-owner of the retail store Herbiary, with locations in Asheville, NC and Philadelphia, PA. You can find her online at maiatoll.com.