PRE-ORDER INFORMATION
Pre-order from Malaprop's to receive signed and/or personalized copies of Late Bloomer (published 04/16/24) by Mazey Eddings.

For personalization, use the order comments field to provide the name to which the book should be autographed (Ex. To Julian).

If you need to make changes to your personalization request, please email info@malaprops.com

ABOUT THE BOOK
A se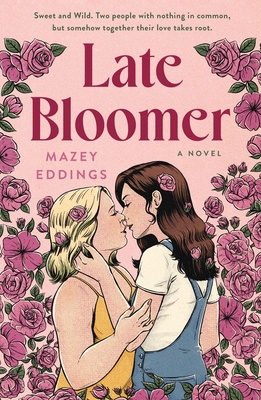 xy, sapphic, opposites-attract romance with Mazey Eddings' signature sparkling voice! Winning the lottery has ruined Opal Devlin's life. After quitting her dead-end job where she'd earned minimum wage and even less respect, she's bombarded by people knocking at her door for a handout the second they found out her bank account was overflowing with cash. And Opal can't seem to stop saying yes.

With her tender heart thoroughly abused, Opal decides to protect herself by any means necessary, which to her translates to putting almost all her new money to buying a failing flower farm in Asheville, North Carolina to let the flowers live out their plant destiny while she uses the cabin on the property to start her painting business. But her plans for isolation and self-preservation go hopelessly awry when an angry (albeit gorgeous) Pepper Boden is waiting for her at her new farm. Pepper states she's the rightful owner of Thistle and Bloom Farms, and isn't moving out. The unlikely pair strike up an agreement of co-habitation, and butt heads at every turn. Can these opposites both live out their dreams and plant roots? Or will their combustible arguing (and growing attraction) burn the whole place down?

SHIPPING INFORMATION
Books will ship on or after the publication date for Late Bloomer (04/16/24) depending on the size of the pre-order campaign and the author's availability. If you order Late Bloomer plus any of Mazey's backlist, your books will all ship after Late Bloomer is published in April. You will receive an email notification when your order is on the way to you and a generic email from stamps.com that will contain your tracking number. If you need to make any changes to your shipping address, please email info@malaprops.com

Domestic Shipping Rates:
Media Mail (US): $5, plus $1 per additional book
Priority Mail (US): $9.90, plus $1 per additional book

International Customers: Shipping prices vary per country. We will have to verify shipping cost before we finalize your order. If you receive an AVS mismatch error please email info@malaprops.com and we will invoice you via PayPal.

ABOUT THE AUTHOR
MAZEY EDDINGS is a neurodiverse author, dentist, and (most importantly) stage mom to her cats, Yaya and Zadie. She can most often be found reading romance novels under her weighted blanket and asking her boyfriend to bring her snacks. She's made it her personal mission in life to destigmatize mental health issues and write love stories for every brain. With roots in Ohio and Philadelphia, she now calls Asheville, North Carolina home. She is the author of A Brush with Love, Lizzie Blake's Best Mistake, the Plus One and the YA novel Tilly in Technicolor.