PRE-ORDER INFORMATION
Pre-order from Malaprop's by July 21st to receive personalized copies of Fit for the Gods edited by Jenn Northington & S. Zainab Williams. For personalization, use the order comments field to provide the name to which the book should be autographed (Ex. To Julian). If you would like a signed copy, you can order after the cutoff date of July 21st!

If you need to make changes to your personalization request, please email info@malaprops.com. Both editors will be signing.
ABOUT THE BOOK
An anthology of gender-bent, queered, race-bent, and inclusive retellings from the enchanting and eternally popular world of Greek myth, featuring stories by:
Marika Bailey • Alyssa Cole • Zoraida Córdova • Maya Deane • Sarah Gailey • Zeyn Joukhadar • Mia P. Manansala • Juliana Spink Mills • Susan Purr • Taylor Rae • Jude Reali • Suleikha Snyder • Valerie Valdes • S. Zainab Williams • Wen Wen Yang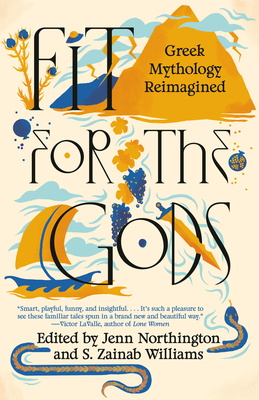 Zeus, Athena, Apollo, Aphrodite, and the other denizens of Mount Olympus feel almost as present and larger than life today as they did when they were worshipped as gods. Humanity has been telling and retelling stories about the characters from Greek and Roman myth for centuries--heck, the Romans liked the Hellenic originals so much, they remade them faster than Marvel remakes Spider-Man movies. And from Virgil's Aeneid to Xena: Warrior Princess to Percy Jackson to The Song of Achilles, the obsession has never waned.

Yet Fit for the Gods shows how these stories still have a power of metamorphosis that would impress Ovid. Here you'll find Atalanta's wild hunt reimagined as a daring space battle; a sex-swapped take on Theseus and the Minotaur; a story that explores the character of Tiresias with a complex, fascinating, modern understanding of gender; a chilling feminist takedown of Apollo from Daphne's POV; and the entire Greek pantheon reimagined as dangerously clever, bored AIs.

Brave, bold, and groundbreaking, the stories in Fit for the Gods will be like ambrosia for those craving fresh interpretations of their favorite myths, and give long-time fans a chance to finally see themselves in these beloved legends.
SHIPPING INFORMATION
Books will ship on or after the publication date for Fit for The Gods (08/01/23) depending on the size of the pre-order campaign and the editors' availability. If you order Fit for The Gods plus any of their other books, your order will all ship after Fit for The Gods is published. You will receive an email notification when your book is on the way to you and a generic email from stamps.com that will contain your tracking number. If you need to make any changes to your shipping address, please email info@malaprops.com
Domestic Shipping Rates:
Media Mail (US): $5, plus $1 per additional book
Priority Mail (US): $9.90, plus $1 per additional book
International Customers: Shipping prices vary per country. We will have to verify shipping cost before we finalize your order. If you receive an AVS mismatch error please email info@malaprops.com and we will invoice you via PayPal.
ABOUT THE EDITORS
JENN NORTHINGTON is the co-editor of the Locus Award-nominated anthology Sword Stone Table, a former bookseller, and a current reviewer, podcaster, and editor with Riot New Media Group.

S. ZAINAB WILLIAMS is a writer, editor, and illustrator based in Asheville, NC. A podcaster and director of content for Book Riot, and a member of PEN America's Literary Awards Committee, she spends most of her days thinking about how to make the world of books and reading more inclusive and progressive.

$18.00

ISBN: 9780593469248
Availability: Coming Soon - Available for Pre-Order Now
Published: Vintage - August 1st, 2023
---

$17.00

ISBN: 9780593081891
Availability: On Our Shelves Now
Published: Vintage - July 13th, 2021
---