PRE-ORDER INFORMATION
---
Pre-order from Malaprop's to receive a signed and/or personalized copy of Bushwhacking by Jennifer McGaha. For personalization, use the order comments field to provide the name to which the book should be autographed (Ex. To Shawn). Jennifer will also sign or personalize her earlier book, Flat Broke with Two Goats!
For orders received from November 18 to February 15, 2022, Malaprop's will donate 15% of the pre-tax purchase price of Bushwacking to Conserving Carolina.
ABOUT BUSHWHACKING
---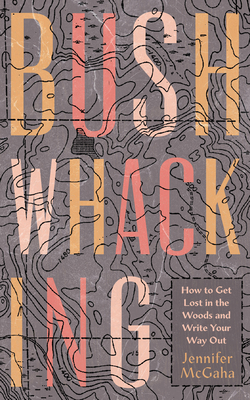 When you stray from a trail and strike out into the woods, you are bushwhacking. The term implies a physical thrashing about--pushing past branches, slicing through thickets, leaping across downed trees--but it also implies a certain fortitude and resilience to seek places unknown. In Bushwhacking, Jennifer McGaha borrows the term, likening it to what writers do when faced with the equally daunting blank page. Exploring the wilderness of your inner life means leaving a relatively comfortable place and going where no path exists. Writers face similar, unknown obstacles when forging a route to a final draft.
Part writing memoir, part nature memoir, and part meditation on a life well lived, Bushwhacking draws on McGaha's experiences running, hiking, biking, paddling, and getting lost across the Appalachian Mountains of western North Carolina to offer readers encouragement practical suggestions to accompany them on their writing and life journeys. Each essay links one of McGaha's forays into the wilderness to an insight about the creative process. An almost-failed attempt at zip lining becomes a lesson on getting out of one's comfort zone. The thrum of a hummingbird's wings, an autumn sunset, and a hound dog's bay at a bear on the path are impromptu master classes in finding inspiration in the small, the ordinary, and the unexpected.
With humility, humor, and hard-won wisdom, Bushwhacking honors writing craft traditions and offers fresh insights into how close communion with nature can transform your writing and your life.
EVENT INFORMATION
---
Malaprop's is please to host a hybrid launch event with Jennifer McGaha on Wednesday, February 15 at 6:00 PM. Click here to learn more and register to attend.
You may purchase a copy of Bushwhacking at the event to be signed that evening. You may also pre-order a signed copy to be shipped or picked up at Malaprop's. If you pre-order or purchase Bushwacking between November 18 and February 15, 2022, Malaprop's will donate 15% of the pre-tax purchase price to Conserving Carolina.
If you have any questions, please email info@malaprops.com
SHIPPING INFORMATION
---
Signed books will ship after the publication date, 2/7/22. If you order Bushwhacking plus Jennifer's other book Flat Broke with Two Goats, all books will ship together after 2/7/22. You will receive an email notification when your book is on the way to you and a generic email from stamps.com that will contain your tracking number. If you need to make any changes to your shipping address, please email info@malaprops.com
Domestic Shipping Rates:
Media Mail (US): $5, plus $1 per additional book
Priority Mail (US): $9.90, plus $1 per additional book
International Customers: Shipping prices vary per country. We will have to verify shipping cost before we finalize your order. If you receive an AVS mismatch error please email info@malaprops.com and we will invoice you via PayPal.
If you need to change your address, have questions about shipping, etc., please email info@malaprops.com
ABOUT THE AUTHOR
---
Jennifer McGaha has taught creative nonfiction and memoir writing in various settings for more than twenty years and currently coordinates UNC Asheville's Great Smokies Writing Program. She is the author of the critically acclaimed memoir Flat Broke with Two Goats, and her work has appeared in the Huffington Post, the Bitter Southerner, Brevity, CHEAP POP, Lumina, PANK, the Chronicle of Higher Education, Passengers, HerStry, and elsewhere. A native of Appalachia, McGaha lives in western North Carolina with her husband, two cats, six unruly dogs, ten relatively tame dairy goats, and an ever-changing number of hens.

$18.95

ISBN: 9781595349811
Availability: Coming Soon - Available for Pre-Order Now
Published: Trinity University Press - February 7th, 2023
---

$19.99

ISBN: 9781492655381
Availability: On Our Shelves Now
Published: Sourcebooks - January 23rd, 2018
---