PRE-ORDER INFORMATION
Pre-order from Malaprop's to receive signed and/or personalized copies of Be That Way by Hope Larson (10/03/23). For personalization, use the order comments field to provide the name to which the book should be autographed (Ex. To Julian).
If you need to make changes to your personalization request, please email info@malaprops.com
ABOUT THE BOOK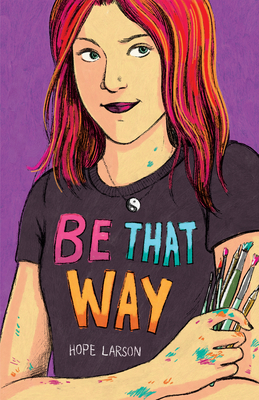 Seventeen-year-old Christine keeps a journal of an eventful year in her life in the mid-90s, while juggling troubled friendships and looking for love. It's January 1, 1996, and high school junior Christine wants more than anything to be that cool girl everyone notices, like her gorgeous best friend, Landry. She usually hates New Year's resolutions, but this year she vows to be that shiny kind of girl--and record it all in her diary through prose, illustration, and comics. When Landry drops her, Christine is surprised to discover just how much she doesn't miss her and her drama. But a misguided kiss with film-obsessed Paul, her only other close friend, also causes a rift, and she finds herself facing a long, lonely summer.
With nothing to lose, Christine finds a new sense of courage. She gets a job at her neighborhood video store, experiments with her art, and becomes romantically entangled with her next-door neighbor Whit, who's either the coolest guy ever or a total jerk. In spite of all this, she doesn't quite feel shiny--until a shocking betrayal shows her the value of the words and drawings she hides in her diary, and she finally understands that she doesn't need to be cool to be noticed--she only needs to be herself.
Eisner-award winning author and illustrator, Hope Larson, has created a powerful coming-of-age story set in a time before the Internet that explores themes of betrayal, first love, self-expression, and the power of art.
SHIPPING INFORMATION
Books will ship on or after the publication date for Be That Way (10/03/23) depending on the size of the pre-order campaign and the author's availability. If you order Be That Way plus any of Hope's backlist, your books will all ship after Be That Way is published. You will receive an email notification when your book is on the way to you and a generic email from stamps.com that will contain your tracking number. If you need to make any changes to your shipping address, please email info@malaprops.com
Domestic Shipping Rates:
Media Mail (US): $5, plus $1 per additional book
Priority Mail (US): $9.90, plus $1 per additional book
International Customers: Shipping prices vary per country. We will have to verify shipping cost before we finalize your order. If you receive an AVS mismatch error please email info@malaprops.com and we will invoice you via PayPal.
ABOUT THE AUTHOR
Hope Larson is the Eisner Award winning author of Salt Magic, illustrated by Rebecca Mock. She has also written and illustrated many graphic novels including the Eagle Rock series ( All Summer Long, All Together Now, and All My Friends). She adapted and illustrated A Wrinkle in Time: The Graphic Novel, which spent forty-four weeks on the New York Times graphic novel bestseller list and for which she also won an Eisner Award. She is also the author of Compass South (A New York Times Bestseller), and its companion volume, Knife's Edge, both illustrated by Rebecca Mock. She lives in North Carolina.