Virtual Roller-Skating Party Collage Workshop with Anastasia Higginbotham
Event Image:
What You Don't Know: A Story of Liberated Childhood (Dottir Press, JAN 26, 2021), is Higginbotham's latest book about being young. It illustrates how families, teachers, counselors, and other "stars" are already beaming love at queer, gender nonconforming, and trans children, to protect and bless them as they are. The Roller-skating Party Collage Workshop lets kids put their community in the rink with them—real life people they know and trust, as well as strangers or historical figures whose radiant and genuine presence (even in spirit) is liberation.
RSVP here to receive a PDF of the roller rink back drop and the link to attend the event.
Like most of our events, this event is free. If you decide to attend and to purchase books we ask that you purchase from Malaprop's. When you do this you make it possible for us to continue hosting author events and you keep more dollars in our community. You may also support our work by making a donation or purchasing a gift card below. Thank you!
When you purchase What You Don't Know: A Story of Liberated Childhood from Malaprop's below you will also recieve a pre-printed roller rink backdrop. (Please note that we can't add the backdrop to media mail shipments.)
SUPPLIES for the Workshop:
• Pens and pencils
• Scissors
• Glue stick
• Squares or rectangles of plain brown grocery bag (or flattened out packing paper or construction paper) for creating faces, bodies, and hands
• Images from magazines and catalogs to make clothes, hair, jewelry, hats, shoes, skates, wheelchairs, and assistive devices. Nothing has to be like it is in real life. Your people can have wings and tails, dress in actual flowers, have hair made of fire! Animals can skate!
• IMPORTANT—There are no rules about the materials! A pencil or pen and paper is enough! The back of an envelope or some newspaper is enough! Stick figures are enough! You can write "my rebel auntie" and "my gay uncle" on a couple of popsicle sticks and skate them all over the rink.
Event date:
Wednesday, January 27, 2021 - 6:00pm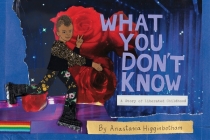 $19.95
ISBN: 9781948340298
Availability: On Our Shelves Now
Published: Dottir Press - January 26th, 2021
---