Live Stream: Keith Flynn and Charter Weeks
Event Image:
Join Keith Flynn and Charter Weeks presenting Prosperity Gospel. Flynn will also read from his previous book Skin of Meaning.
Like most of our events, this event is free, but registration is required. Click here to RSVP for this event. Prior to the event the link required to attend will be emailed to registrants.
If you decide to attend and purchase the authors' books, we ask that you purchase from Malaprop's. When you do this you make it possible for us to continue hosting author events and you keep more dollars in our community. You may also support our work by purchasing a gift card or making a donation of any amount below. Thank you!
---
Keith Flynn and Charter Weeks have added to the long tradition in the US of documenting the pitfalls of unbridled capitalism. From Lewis Hine photographing child labor in textile mills to Walker Evans and James Agee publishing Let Us Now Praise Famous Men during the Great Depression, and to Eugene Richards documenting the decline of communities across the American West--Prosperity Gospel adds to this tradition with photographs and text that remind us that this nation is a land of opportunity for some and a land of hard work, low pay, and decaying communities for many. Both the Great Recession that began in 2008 by the greed of an unregulated banking industry and the more recent global pandemic that has devastated communities across America provide the backdrop for these remarkable portraits and testimonies of the people who do their best to survive when the odds are so stacked against them. Kudos to Flynn and Weeks for this important contribution to American literature. ---Glenn Ruga, Founder & Director Social Documentary Network
The Skin of Meaning is award-winning poet Keith Flynn's sixth and most wide-ranging collection, seeking to find the tangible analogs and visceral meanings behind the daily bombardment of digital information, hoping to restore the mystery in our involvement with language, constantly challenging our assumptions about the world we think we see, and providing evidence of another invisible one bristling like an underground river beneath our feet.
Keith Flynn Flynn is also the author of seven books, six collections of poetry. His poems have appeared in hundreds of magazines, journals, and anthologies, including The American Literary Review, Ecotone, Cave Wall, The Poetics of American Song Lyrics, The Carolina Quarterly, The Colorado Review, Crazyhorse, The Cuirt Journal (Ireland), Earth and Soul: The Kostroma Anthology (Russia), The 20th Century Anthology of NC Poets, Poetry Wales, Takahe (New Zealand), Margie, Shenandoah, Quarterly Review (Singapore), Rattle, and The Southern Poetry Review. He has been nominated for the Pulitzer Prize, and the National Book Award, was awarded the Paumanok Poetry Prize in 1996, and the 2013 North Carolina Literary Fellowship. Flynn has given thousands of performances from his work across North America and abroad. In 2005 and 2006, Flynn served as the Gilbert-Chappell Distinguished Poet for North Carolina, working to promote the cultural importance of poetry in his home state. He is also the founder and editor of The Asheville Poetry Review, a literary journal established in 1994 that has published over 1,500 writers from 22 countries.
Charter Weeks has been a documentary photographer for nearly 50 years and formerly worked as a commercial photographer and filmmaker in NYC in the 1960s working for major agencies and the BBC. He's worked in Europe, Asia, Africa, Central America. His photography has been exhibited in galleries around the US and appeared in The New York Times, The Atlantic, The Virginia Quarterly Review, South Loop, Hanging Loose, Graphis design, and Corvette Fever among others. For the past 3 years, he has worked with the North Carolina writer Keith Flynn, documenting the effects of this recession on an area of Appalachia around Asheville.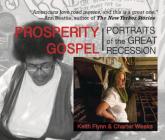 $30.00

ISBN: 9781952485350
Availability: On Our Shelves Now
Published: Redhawk Publications - August 15th, 2021
---

$18.95

ISBN: 9781597098489
Availability: Not Currently On Our Shelves. Usually Ships in 1-5 Days.
Published: Red Hen Press - April 14th, 2020
---