Sanity Within Chaos: Connecting with Our Natural State of Calmness and Ease (CD-Audio)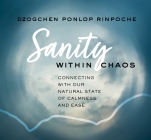 $34.99
This book is currently on backorder. Please call or email for availability.
Description
---
One of the most respected living Tibetan Buddhist masters reveals the inner causes of modern overwhelm, sharing solutions to help us in the midst of our most challenging times.

When we're struggling with uncertainty and confusion—in ourselves or in the world—what can we do to find calmness and clarity? Here, Dzogchen Ponlop Rinpoche shows us the way.

The first step, he teaches, is to look closely at the tumult within us. And though it might sound paradoxical, the best place to start, he teaches, is not with our emotions, but with our thoughts:

"All our emotions—fear, anger, sadness—are simply beautiful energies. But when we distort them with thinking, they become afflictions. Like the flapping of a butterfly's wings in chaos theory, even a small, fleeting thought can lead to big effects in the weather of our minds. But this also means that just a little awareness and compassion can create big changes."

Through essential Buddhist insights, modern-day examples, and meditation teachings, listeners will explore how our thoughts and emotions generate suffering, the cognitive patterns that get us stuck in turmoil, resting in the gaps or "vanishing points" between thoughts, and how to return the mind to its natural state of stillness.

"When we change the inner chaos of our minds," Dzogchen Ponlop teaches, "we also change the chaos of the world." Through his unique merging of perennial insights, personal experiences with our 24-7 online lives, and wisdom-infused humor, this revered guide maps out a path to authentic peace.
About the Author
---
Dzogchen Ponlop Rinpoche is a widely celebrated Buddhist teacher and the author of Emotional Rescue, Rebel Buddha, and other books. A lover of music, art, and urban culture, he is a poet, photographer, accomplished calligrapher, and visual artist. He is the founder, president, and spiritual director of Nalandabodhi, an international community of Buddhist centers. Dzogchen Ponlop Rinpoche is acknowledged as one of the foremost scholars and meditation masters of his generation in the Nyingma and Kagyu schools of Tibetan Buddhism. He is known for his sharp intellect, humor, and easygoing teaching style, for launching the kindness initiative #GoKind, and for his outreach to communities internationally. Learn more at dpr.info.