Union Pacific's Big Boys: The Complete Story from History to Restoration (Paperback)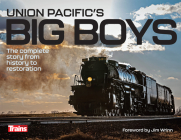 $29.99
This book is currently on backorder. Please call or email for availability.
About the Author
---
Since 1940, Trains has been offering railroad news, industry insight, railroad preservation, history and more! They have covered Union Pacific's Big Boys extensively in both print and digital mediums including in several top selling special magazine issues and DVDs.