Schools of Hope: How Julius Rosenwald Helped Change African American Education (Hardcover)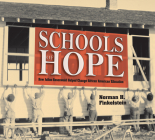 Description
---
When Booker T. Washington, the famed African American educator, asked Julius Rosenwald, the wealthy president of Sears, Roebuck and Company and noted philanthropist, to help him build well-designed and fully equipped schools for black children, the face of education in the South changed for the better.

It was the early 1900s, a time of discrimination, racial segregation, and inadequate education for African Americans. Rosenwald created a special fund that in just twenty years built more than 5,300 schools attended by 600,000 black students. In this inspiring story, noted nonfiction writer Norman H. Finkelstein spotlights one man's legacy and the power of community action. Includes quotations, a detailed bibliography, and index.
About the Author
---
Norman H. Finkelstein is the award-winning author of eighteen nonfiction books for young readers. He has won the National Jewish Book Award twice for Heeding the Call: Jewish Voices in America's Civil Rights Struggle and Forged in Freedom: Shaping the Jewish-American Experience (both Jewish Publication Society) and the Golden Kite Honor Book Award for Nonfiction for With Heroic Truth: The Life of Edward R. Murrow (Clarion Books). Three Across: The Great Transatlantic Race of 1927 was published by Calkins Creek in 2008. A resident of Framingham, Massachusetts, Finkelstein is a retired public school librarian and a longtime faculty member of Boston's Hebrew College. Visit normfinkelstein.com.
Praise For…
---
"Finkelstein does a solid job of introducing both a person and a history most readers will know nothing about. The text clearly explains how the schools were built, the enthusiasm for them, their successes, and how the legacy of the Rosenwald schools lives on. The archival photographs are particularly well chosen and often moving. . ."—Booklist

"This straightforward narrative is substantially supported with many photographs of the period, especially of the schools and the students. Source notes, a bibliography, a list of websites, an index and picture credits add to its authenticity. Clean layout and design augment a quality introduction to an important chapter in the history of American education." —Kirkus Reviews

"This highly accessible, beautifully illustrated book tells how a Jewish tycoon helped provide educational opportunities for countless African Americans. . . This is a fascinating look at how one man's vision changed the lives of more than 600,000 people through increased educational opportunities. The book is superbly illustrated with numerous black-and-white, excellently captioned photos. . . "—School Library Journal

"This work delves more deeply into Rosenwald's other charitable work and ably contextualizes the school-building program within the "separate but equal" social mandate that was then the law of the land. Plenty of black and white photos and architectural plans provide a vivid picture of the before-and-after state of post--Civil War black schools, and they also bring readers up to date on current preservation efforts. Index, citations, and print and online sources are included." —The Bulletin of the Center for Children's Books