Every Time You Go Away: A Novel (CD-Audio)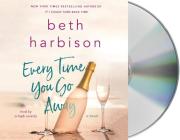 $39.99
This book is currently on backorder. Please call or email for availability.
Description
---
In New York Times bestselling author Beth Harbison's most emotional audiobook ever, a fractured family must come together at a beach house haunted by the past.
Willa has never fully recovered from the sudden death of her husband, Ben. She became an absent mother to her young son, Jamie, unable to comfort him while reeling from her own grief.
Now, years after Ben's death, Willa finally decides to return to the beach house where he passed. It's time to move on and put the Ocean City, Maryland house on the market.
When Willa arrives, the house is in worse shape than she could have imagined, and the memories of her time with Ben are overwhelming. They met at this house and she sees him around every corner. Literally. Ben's ghost keeps reappearing, trying to start conversations with Willa. And she can't help talking back.
To protect her sanity, Willa enlists Jamie, her best friend Kristin, and Kristin's daughter Kelsey to join her for one last summer at the beach. As they explore their old haunts, buried feelings come to the surface, Jamie and Kelsey rekindle their childhood friendship, and Willa searches for the chance to finally say goodbye to her husband and to reconnect with her son.
Every Time You Go Away is a heartfelt, emotional story about healing a tragic loss, letting go, and coming together as a family.
About the Author
---
Beth Harbison
is the
New York Times
bestselling author of
Secrets of a Shoe Addict
,
Shoe Addicts Anonymous
,
Hope in a Jar
and
Thin, Rich, Pretty
. She is also a serious product junkie, with enough lip glosses, shampoos, conditioners, and foundations to lube every car on the streets of suburban D.C., where she lives with her husband, two children and dogs.
Orlagh Cassidy is the winner of the 2009 Best Voice in Children & Family Listening and the 2008 and 2011 Best Voice in Mystery & Suspense. She's narrated for Jacqueline Winspear, James Patterson, Erica Spindler, Beth Harbison, and Frank Herbert, among others.
Cassidy's Broadway credits include Present Laughter with Frank Langella, Our Country's Good, and Suddenly Last Summer.  She has appeared Off-Broadway in Bright Ideas and The Field at The Irish Rep (Drama Desk Nomination). She was "Doris Wolfe" on The Guiding Light and her other television appearances include Sex and the City, Law & Order, Law and Order SVU, and Elementary.  She also appeared in the films Purple Violets, Young Adult, and Definitely, Maybe.