I Can Do It 2010 Calendar: 365 Daily Affirmations (Calendar)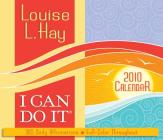 $13.95
This book is currently on backorder. Please call or email for availability.
Description
---
Louise L. Hay's I CAN DO IT Calendar for 2010 offers you positive thoughts, affirmations, and words of wisdom to encourage you to move forward with joy and confidence each day of the year. As you read the words on these pages, you'll feel an upliftment of spirit and realize that you can do it—no matter what "it" is!
This colorfully appealing calendar is the perfect gift for friends, family members—and, of course, you!
About the Author
---
Louise L. Hay, the author of the international bestseller You Can Heal Your Life, is a metaphysical lecturer and teacher with more than 40 million books sold worldwide. For more than 25 years, she has helped people throughout the world discover and implement the full potential of their own creative powers for personal growth and self-healing. She has appeared on The Oprah Winfrey Show and many other TV and radio programs both in the U.S. and abroad.