The Electric Hotel: A Novel (CD-Audio)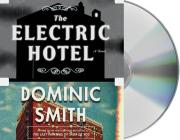 Special Order - Might Not Be Available. Contact Store at 828-254-6734 for Availability.
Description
---
From the New York Times bestselling author Dominic Smith, a radiant audiobook tracing the intertwined fates of a silent-film director and his muse.

Dominic Smith's The Electric Hotel winds through the nascent days of cinema in Paris and Fort Lee, New Jersey—America's first movie town—and on the battlefields of Belgium during World War I. A sweeping work of historical fiction, it shimmers between past and present as it tells the story of the rise and fall of a prodigious film studio and one man's doomed obsession with all that passes in front of the viewfinder.

For nearly half a century, Claude Ballard has been living at the Hollywood Knickerbocker Hotel. A French pioneer of silent films, who started out as a concession agent for the Lumière brothers, the inventors of cinema, Claude now spends his days foraging mushrooms in the hills of Los Angeles and taking photographs of runaways and the striplings along Sunset Boulevard.

But when a film-history student comes to interview Claude about The Electric Hotel—the lost masterpiece that bankrupted him and ended the career of his muse, Sabine Montrose—the past comes surging back. In his run-down hotel suite, the ravages of the past are waiting to be excavated: celluloid fragments and reels in desperate need of restoration, and Claude's memories of the woman who inspired and beguiled him.
About the Author
---
Dominic Smith grew up in Australia and now lives in Seattle, WA. He's the author of the novels: The Last Painting of Sara de Vos, Bright and Distant Shores, The Beautiful Miscellaneous, and The Mercury Visions of Louis Daguerre. His short fiction has been nominated for a Pushcart Prize and has appeared widely, including in The Atlantic, Texas Monthly, and the Chicago Tribune's Printers Row Journal. He has been a recipient of a Literature Grant from the Australia Council for the Arts, a Dobie Paisano Fellowship, and a Michener Fellowship.

Edoardo Ballerini is an American writer, director, film producer and actor.  He has won many awards for his audiobook narration; within only a few years after beginning his narrating career, he won several AudioFile Earphones Awards for his work, including Stephen Greenblatt's The Swerve: How The World Became Modern, Jodi Picoult's The Storyteller and Jess Walter's Beautiful Ruins.   He narrated Kenzaburo Oe's Nobel Prize Winning Nip the Buds, Shoot the Kids, Joseph Finder's The Moscow Club as well as works by John Edward and Daniel Stashower.   In television and film, he is best known for his role in The Sopranos, 24, I Shot Andy Warhol, Dinner Rush and Romeo Must Die. The silky-voiced Ballerini is trained in theater and continues to do much work on stage.